Anderson Extreme Knee Sleeves
Anderson Extreme Knee Sleeves
Price: $75.00
7 mm Neoprene Knee Sleeves
Ideal for powerlifting and heavy knee stress activities
Maximum sleeve support with high grade 7 mm neoprene
Available in a wide range of sizes
30 cm in length
Sold in pairs
SKU:

kla-sleeves-knee-extreme
---
Email to a friend
Description
Anderson KLA Extreme Knee Sleeves: Built for Powerlifting Knee Support
These 7 mm thick neoprene Anderson Extreme Knee Sleeves are a convenient and essential tool for heavy lifters. Whether you are into powerlifting, Olympic lifting, or have a job that significantly stresses you knees, these are for you. Anderson is the exclusive source for these knee sleeves and the related Anderson KLA Extreme Elbow Sleeves.
Serious lifters can benefit from Anderson KLA Extreme Knee Sleeves for their added support and muscle warmth during workout warmup and lifting – for injury prevention and reduced post-exercise inflammation. Knee sleeves can also help with post-injury healing by increasing blood flow around the knee joint and relieving pain. Do yourself a favor by reducing the risk of injury and advancing your performance with knee protection.
KLA Knee Sleeve Advantages:
Better Fit – The tapered design of our knee sleeves offers better fit and compression over its length than a typical tube-shaped knee sleeve. The wider opening at the top for the thigh tapers down to a narrower opening at the bottom for the calf, with a slight indent at the midpoint.
Extra Support – The slightly curved reinforced seam design provides additional support on both sides of the knee. This reinforcement starts at the back of the thigh to coincide with the distal hamstring tendons, and curves around to the front at the bottom to help support the patellar tendon. We believe our sleeve offers the most support you can get from a neoprene knee sleeve.
Long-lasting – The high-quality 7mm neoprene provides comfort and long-lasting support with a 1-year manufacturer warranty.
These heavy-duty sleeves are one of the best tools to promote, protect, and improve knee joint health. As always, check with your doctor in case of knee injury or ongoing knee problems.
NOTE: If calf is bigger than knee joint, make sure the size you choose has a maximum size equal to or bigger than your calf.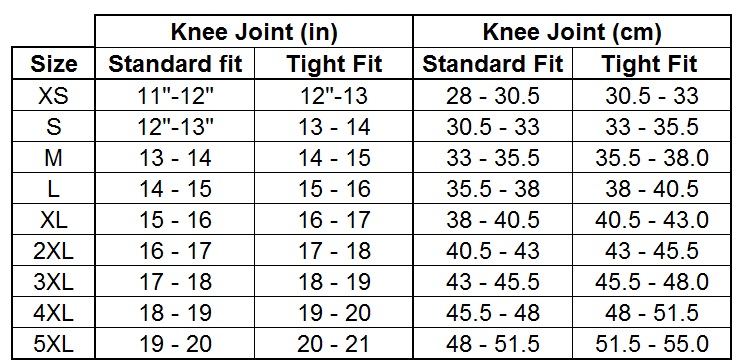 Watch Eva Dunbar, one of our Anderson Powerlifting sponsored athletes, using our KLA Extreme Knee Sleeves.
Additional information
| | |
| --- | --- |
| Weight | N/A |
| Size | XS, S, M, L, XL, 2XL, 3XL, 4XL, 5XL |
---